About a week ago, on a day off, I climbed Schiehallion in the central Scottish highlands.
I do a lot of hillwalking, especially during the half of the year when there is no rugby to be played, and I think it's a big part of why I'm still playing when all but one of my colleagues from the Lismore team of 1992 have long since retired.  I have, in fact, climbed Schiehallion twice before, although last time my uncle and I had to turn back in a furious blizzard: having set off in gorgeous sunshine we were cutting steps in the snow by the 2500 foot mark.
Schiehallion is a divisive hill amongst climbers: a steep but rather-too-civilised path leads up to the first coll when approaching from the east, followed by kilometres of treacherous boulder field that just scream broken collar-bone.  But the views on a day like last Thursday go all the way past Glen Coe to the Isle of Skye in the Atlantic West, and eastwards to the Lomonds and the Lahill above my house, on the North Sea coast.  The converse is also true: it stands alone, and few Scottish Munros have not been vaguely gestured at and labelled as Schiehallion at some point.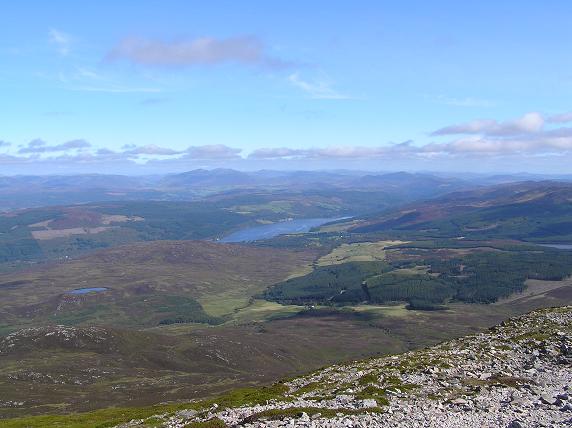 Anyway, I climbed it in a very respectable 80 minutes or so, and it being a weekday – albeit a pleasant one – meant that I only had to share it with smattering of fifty-something couples, all of whom were struggling gratifyingly slowly as I and my uncharacteristically friendly collies waved cheerily on the way past.